Fallen Ash Platinum Rose
Sire - Fall Ash Scouts Night of the Stars
Dam - Fall Ash Farms Wrapped in Roses
In foal to World Top Ten stallion GRF Royal Star Designer Domino for 2017
Platinum has a black colt on her side that was born in August and will be rebred in 2018
FOR SALE
Ravenwood Freezin My Assets
FOR SALE
Asset is one of our best broodmares. She is the dam to several of our Spotcular and Domino daughters.
We have planned to keep her daughters for our breeding program.Asset is in foal to Spotacular for 2018 .
You can see one of her daughters Exotic at the bottom of the page. Asset has a lovely disposition and was born 6/20/2006
Sire: Taylor Mades Pistol Bang 28.50"
Dam-Flying W Farms Shallamar Gold 31.00"
Impressible Versaces Obsession
Obsession is a 33" 7 year old buckskin mare that has produced 4 really nice foals for us . We are keeping her fillies by Spotacular and Domino for our breeding program.
She had a sorrel and white filly 2017 and is being bred back the same way to World Champion Lucky Four After Dark Spotacular.
SHE IS FOR SALE
Call 706-581-7074

Sire - RFM Extacys Impressible Versace

Versace, a 2004 Reserve Honor Roll Champion and two-time top ten world champion
Dam - Lowe's Bet Me
Impressible Feathers Pocohontas
FOR SALE TO THE PERSON THAT WANTS AND EXCEPTIONALY CORRECT TINY MARE THAT FOALS EASY
Pocohontas is 30.50" 10 year old bay pinto mare. She has had a foal every year and gets right back in foal. Her black and white filly is on the foals page and her black and white filly Show N Off on the for sale page.She has a gorgeous head, long neck and a great personality.
Has a tiny little black and white filly sired by GRF Royal Star Designer Domino that was born 8/20/2017. Can sell with filly or wait until weaned. Will be rebred in 2018
FOR SALE
Sire - Bear Branch Painted Feather

Painted Feather, a 2004 Reserve Honor Roll Champion and a 2-time Top 10 Champion
Dam - Impressible Designs Ramblin Rose
CHECKMATE SPOTACULARS GYPSY ROSE
(sold)
Sire - Fallen Ash Red To Remember, a producer of World Champions and World Grand Champions
Dam - Fallen Ash Scouts Platinum Rose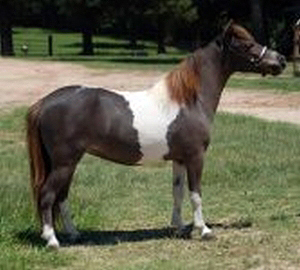 IMPRESSIBLE DESIGNS VICTORIAN LACE
(FOR SALE)
Victorian Lace is 30.25" 7 year old Silver Dapple pinto mare born 2/26/2007. In foal to World Top Ten Champion GRF Royal Star Designer Domino for 2018.
She has had a foal for us every year and gets back in foal easily
(FOR SALE CALL OR EMAIL FOR INFORMATION)
SIRE: IMPRESSIBLE MAJESTYS FINE DESIGN 29.75"
DAM: LOWES BEST FRIEND 29.50"
CHECKMATE SPOTACULARS EXOTIC BABE
Babe is 32"tall with a beautiful head ,long neck, level top line and is ultra refined with a wonderful disposition. She just had a beautiful black and white colt by GRF
Royal Star Designer Domino in 2017 and a black colt in 2017. Bred back for 2018 the same way.
SIRE: LUCKY FOUR AFTER DARK SPOTACULAR 30"
DAM: RAVENWOOD FREEZIN MY ASSETS 33.25"
Home Of World Champion AMHA and AMHR Miniature Horses In Georgia